St. John's Quasquicentennial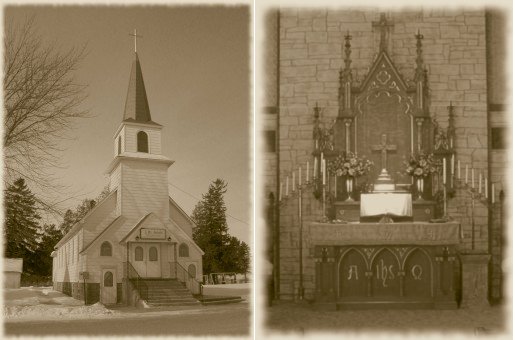 Our 125th Anniversary
St. John's was founded on Wheatland Ridge by settlers from Germany in 1880. The church is located in the countryside between the towns of New Albin, Iowa and Eitzen, Minnesota.
For many years services at St. John's were held in German. At first the church was Lutheran. It soon joined the German Evangelical Synod of North America, which eventually became part of the Evangelical & Reformed Church, which in turn merged into the United Church of Christ. St. John's is just over the state line into Iowa, but belongs to the Minnesota Conference of the UCC.
In 2005 we celebrate the Quasquicentennial of St. John's. For 125 years the people of this congregation have worshipped and served God here in this corner of northeast Iowa and southeast Minnesota, reaching out through the mission of the Church to participate in the work of God's Kingdom around the world.
Coming Events
Bookmark this site, and check back often for news of upcoming scheduled events!
Sunday, February 13: We will be having a "kick-off" birthday party to start our 125th anniversary celebration. The Sunday School will be serving cake, ice cream, and coffee following church services.
Sunday, February 20: During the worship service we will be recognizing past Presidents of our Church Council.
Sunday, March 20: Palm Sunday our five confirmands will be getting confirmed. Plus, during the service we will also be recognizing all those who have been confirmed at St. John's over the years.
Sunday, March 27: Easter Sunday— Special Sunrise Service by the Youth Fellowship— you won't want to miss this one! Also, after church the Youth Fellowship will be putting on an Easter egg hunt for the Sunday School kids.
Friday, April 1 & Saturday, April 2: Photos will be taken for the St. John's Quasquicentennial History Book/Pictorial Directory.
Sunday, April 17: The St. John's Youth Fellowship will be serving an Appreciation Dinner to the congregation, following Sunday morning worship.
Sunday, May 1: Chicken BBQ. Serving from 3:00 to 7:00 PM. The Women's Fellowship will have a plant and bake sale in the schoolhouse. There are also raffle tickets available for the quilt and other items.
Saturday, May 7: Mother-Daughter Banquet at the church at 7:00 PM.
Sunday, May 8: Baptism Day. The youngest member of our congregation, Kylie Ann Staggemeyer, will be baptized during worship. On display in the basement will be baptismal gowns, outfits, pictures, anything to do with baptism.
Sunday, May 15: Recognition of high school graduates. The high school seniors of the congregation will each receive a quilt during worship. Reception in the basement afterwards.
Saturday, June 11: Bible School. Classes will be held from 9:00 AM to 4:00 PM at the church.
Sunday, June 12: Old-fashioned Sunday School picnic. Also, a picture of the entire congregation will be taken on the front steps of the church, right after the worship service.
Monday, July 4: Youth Fellowship is going to construct a float for the parade in Eitzen.
Sunday, August 14: Observance during Sunday worship of the founding of the congregation on August 15, 1880.
Sunday, September 11: Special Quasquicentennial Missionfest service. The schoolhouse will be set up with a historical display, which will remain there until after our celebration in October.
Saturday, October 1: Confirmation Reunion and service in the evening, with lunch afterwards.
Sunday, October 2: St. John's Quasquicentennial Celebration. Sunday morning worship at 10:00 AM, with a catered meal serving at 11:00 AM, followed by an afternoon worship service at 2:00 PM.
We'd Love to Hear from You!
Any news, greetings, comments, or ideas for our St. John's Quasquicentennial? You can drop us a line by e-mail at stjohnswheatland@hotmail.com. Or sign our Guestbook.